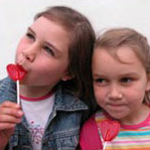 Valentine's Day Party
A Valentine's Party is a fun way to liven-up February for your child and his/her friends and classmates. Children can make and give Valentines and enjoy sweet treats. A Valentine Tea Party or Teddy Bear Party can be especially fun.
Party Invitations
Make invitations in shape of heart, with a image of cupid or decorated with a paper doily. Attach a red lollipop.
Party Decorations
Decorate with paper hearts hanging from ceiling, paper doilies, pink, red & white balloons and streamers and heart shaped confetti.
Games & Activities
Read story about Valentine lore. Have a Valentine hunt (hide a special Valentine for each guest). Do a Valentine word search. Play Twister.
Arts & Crafts
Have guests make Valentine cards to take home to parents (provide paper, lace, glitter, stickers, etc.) or fragrant sachets (lace squares, ribbon and popourri). Set out beads and cord for jewelry making.
Party Refreshments
Serve finger sandwiches (cheese, peanut butter, etc.), apple slices, baby carrots with dip and heart shaped cookies. Decorate strawberry (pink) cupcakes with red hots, heart shaped candy, or a chocolate kiss or make a sweatheart cake.
Party Favors
Send guests home with a box of conversation "be mine" heart candy, glitter pens, blowing bubbles, or a note pad or journal.