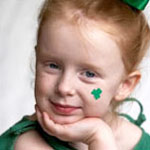 St. Patrick's Day Party
St. Patrick's Day is one of those inexplicably fun holidays for both children and adults. Make leprechaun traps, find fool's gold, and decorate shamrock cookies.
Party Invitations
Design an invitation in the shape of 4 leaf clover or include a drawing of pot of gold, a leprechaun or a rainbow. Enclose a gold coin and remind guests to wear green.
Party Decorations
Decorate with green, gold and white balloons, gold coins or confetti, paper four leaf clovers, rainbow colored streamers and fools gold (paint rocks gold).
Games & Activities
Read a St. Patricks Day story. Have a gold coin toss or hunt for gold coin or 4 leaf clovers. Play hot potato using a real potato and pin the hat on the leprechaun.
Arts & Crafts
Give children boxes, string, tape, sticks, wood and other materials to design a leprechaun trap. Have children "set" traps and when they are busy with another activity "spring" the trap and leave a gold painted rock (fool's gold) in the trap. Make paper hats and use sidewalk chalk to draw giant rainbows. More St. Patrick's Day crafts.
Party Refreshments
Serve macaroni and cheese or baked potatoes with self serve fixings (broccoli, cheese, chili, sour cream), green jello, shamrock shaped cookies and sparkling apple cider. Decorate cupcakes with rainbow stripes or chocolate gold coins.
Party Favors
Fill favor bags with gold coins, candy, blowing bubbles and stickers.