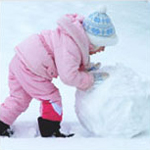 Snow Play
Visit a local sledding hill or ski area where guests can ride sleds, build snow forts and snow men, make snow angels, and generally frolic in the snow. Then serve up some tasty and toasty treats.
Party Invitations
Make invitations in the shape of a snow ball, snow flake or snowman (add white glitter for sparkle or cotton for "fluff"). Enclose snow-like confetti. Remind guests to wear thick socks, mittens, and hats.
Party Decorations
Decorate with paper snowflakes, snowflake confetti, white styrofoam snow balls and white and silver balloons. Have a real snowman at party location holdiing a welcome sign.
Games & Activities
Make and decorate snow men. Go sledding. Run relay races or an obstacle course. Play tug of war and cold snowball (like hot potato, but with large white styrofoam ball).
Arts & Crafts
Make a snow globe with glass jars and glitter. Make paper snowflakes, but cover one side with pastel color tissue paper for colorful effect.
Party Refreshments
Serve soup, stew, chili or cheese fondue. Make snowman face crackers (cream cheese with olives for face) and rice krispie treat snowballs (include m&ms for colorful touch). Decorate snowball cupcakes with white icing and shredded coconut or make a snowman cake. Serve hot chocolate.
Party Favors
Send guests home with snow globes or fun mittens. Or fill favor bags with blowing bubbles, pencils & erasers, fruit leathers and stickers.