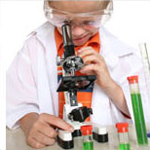 Science Party
Encourage your budding scientist with a fun Super Science Party. Since this party can get messy, plan on your yard, garage or kitchen for the location. Or visit a local tech museum or children's museum. A "science entertainer" can provide lively and interactive science demonstrations for your guests.
Party Invitations
Make invitations with a photo of Einstein or other famous scientist, drawing of Ben Franklin and his "kite" experiment, or an image of a light bulb and the word "Eureka!".
Party Decorations
Decorate with beakers, thermometers, wires and cables.
Games & Activities
Launch stomp rockets. Make giant bubbles. Erupt a volcano (from kit or have children make volcanos out of modeling clay, place baking soda inside hole, pour in some vinegar). Play science trivia. Match names, faces, and inventions of famous scientists. Show an episode of Magic School Bus or Bill Nye the Science Guy. More fun science experiments.
Arts & Crafts
Make a science collage (photos of favorite inventions cut from magazines). Place shapes on blue print paper and then put in sun to expose paper. Make paper airplanes (aerodynamics). Bake yeast bread (chemical reaction).
Party Refreshments
Serve peanut butter and jelly sandwiches, canned cheese on crackers (propellant), jello with grapes (suspension), popcorn (expansion) and soda pop (carbonation). Make home made ice cream or make your own sundaes with canned whip cream.
Party Favors
Fill favor bags with magnets, gliders, notepads and pens, silly putty, small rubber balls, mini flashlights and blowing bubbles.