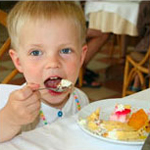 Restaurant Party
If your child has a favorite restaurant that can accommodate a group of children, this can be a fun and easy party. Consider pizza parlors, icecream parlors, diners, theme, and fast food restaurants.
Party Invitations
Design invitations to look like a menu or with a drawing or photo of a favorite food.
Party Decorations
Decorate with colorful balloons.
Games & Activities
Play 20 questions, quessing games, hot potato (with a real potato) and word games & word searches with favorite foods.
Arts & Crafts
Have guests color on paper placemats and cut cookie cutter shapes from play doh.
Party Refreshments
Order the restaurant's specialties or kid friendly foods, such as pizza, burgers, nachos or spaghetti. Bring cake or cupcakes if allowed.
Party Favors
Send guests home with activity books, coloring books, card games, or silly putty.