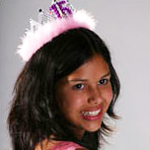 Quinceanera
Quinceañera is a the celebration of a girl's 15th birthday in Hispanic cultures. The 15th birthday is considered the transition from childhood into young womanhood. A Quinceañera celebration often includes a religious ceremony as well as a reception that includes presentation of the birthday girl, dinner, and dancing.
Party Invitations
Make invitations with the number 15 decorated with glitter and a photo of birthday girl.
Party Decorations
Decorate with balloons, streamers, and confetti to coordinate with dress colors and flowers.
Games & Activities
Hire a DJ and have dancing.
Arts and Crafts
Decorate tiaras with ribbons and flowers. Have quests decorate and sign a large banner for the birthday girl.
Party Refreshments
Serve traditional Mexican foods, such as enchiladas, rice & beans or have a barbecue or a fajita buffet. Serve a tiered cake (wedding style) and sparkling apple cider.
Party Favors
Fill favor bags with blowing bubbles and chocolates.