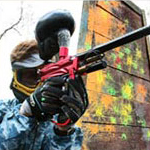 Paintball Party
If you live in an area where paintball is available (either indoor or outdoor), this can be a fun and active party. Don't worry… this is not any rougher than most sports and necessary safety gear is provided.
Party Invitations
Make invitations with a big paint splatter or Army men. Remind guests to wear clothes they can get dirty and long sleeves and long pants. Have parents sign waivers when they drop off their children.
Party Decorations
Decorate with army or camping gear (canteens, maps), toy guns and giant paint "splats" on paper.
Games & Activities
Play paintball, set-up an obstacle course, have a tug of war challenge.
Arts & Crafts
Make a paintball mural (shoot or throw paint at a large piece of paper). Do facepainting in colorful or colorful or camouflage designs.
Party Refreshments
Serve beans and franks, string cheese, canned fruit cups (for that meal ration feel) and cupcakes with Army men on top.
Party Favors
Fill favor bags with Army men, squirt guns, temporary tattoos and whistles.