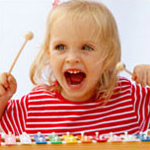 Music Party
Have a music theme party at home or nearby park. Check with your local community center or library for recommendations on children's entertainers who can children in songs and musical instrument play. Or buy tickets to a musical performance geared towards children.
Party Invitations
Make invitations in shape of large music note or written on back of photo copy of sheet music. Incorporate a photo or drawing of favorite musical instruments.
Party Decorations
Decorate with large music notes cut from black paper. Display musical instruments.
Games & Activities
Play music trivia and musical chairs.
Arts & Crafts
Make paper hats and book marks.
Party Refreshments
Serve finger sandwiches, pretzels, seedless grapes sliced apples and ice cream cake or drum layer cake.
Party Favors
Send guests home with a CD of children's music, tambourines, maracas, harmonicas or kazoos.