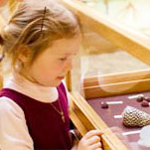 Museum Party
Many cities have museums with interesting displays for children. These include children's museums, natural history museums (dinosaurs!), aerospace museums, modern art museums, and more. Some museums coordinate private parties, so this can be a fun and easy party.
Party Invitations
Design invitation to look like a museum admission ticket or include a poicture from the museum brochure or web site. Include a drawing of object or animal that ties in with museum children will visit (example: dinosaur for natural history museum or Andy Warhol print for modern art museum).
Party Decorations
Decorate with colorful balloons and objects that tie in with what children will see at museum.
Games & Activities
Have a trivia hunt (answers in museum). Play 20 questions or a word game or word search.
Arts & Crafts
Make a collage related to the museum theme and decorate book marks.
Party Refreshments
Serve pizza or peanut butter & jelly sandwiches, baby carrots, grapes and icecream cake.
Fun Favors
Fill favorbags with postcards from museum, stickers, plastic animals or figures, a ruler, a pen & notepad. Give guests a few dollars to spend in the museum gift shop.