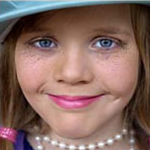 Mardi Gras Party
You may not think of Mardi Gras as a kids' party, but there's no reason you can't have a kid friendly version of this fun celebration. Mardi Gras begins on King's Day, or the Feast of the Epiphany. In New Orleans, the festivities continue until Mardi Gras Day.
Party Invitations
Make invitations in the shape of a party mask, decorate with glitter and enclose confetti in envelope. Or use images from the New Orleans Mardi Gras parade (float or entertainer).
Party Decorations
Decorate with balloons, streamers, and confetti in Mardi Gras colors: purple (justice), green (faith) and gold (power) and mardi gras beads.
Games & Activities
Have a balloon stomp and coin toss. Play Twister, Bingo and musical chairs. Make giant bubbles. Tell jokes and riddles.
Arts & Crafts
Make party masks and paper hats, string bead necklaces. Offer face painting or press-on tattoos.
Party Refreshments
Serve beans & rice, okra (with a prize for kids who eat it!), fruit kabobs and ginger ale. Make bread pudding or a Mardri Gras King cake.
Party Favors
Send guests home with Mardi Gras beads, noise makers, magic trick, blowing bubbles, card games, paddle balls or punching balloons.