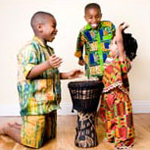 Kwanza Party
Many people think Kwanza is a traditional African celebration. In reality, Kwanza was established in 1966 to provide an opportunity for the African American community to celebrate their heritage and reinforce positive community values. Kwanza is celebrated for 7 days beginning on December 26th and ending on January 1st. On December 31st a feast is prepared for family and friends.
Party Invitations
Display African folk art photos or drawings or decorate invitations with a kinara candle holder and candles (similar to chanukah, but with 7 candles).
Party Decorations
Use African design fabrics for table cloth and woven baskets for serving dishes.
Games & Activities
Read Kwanza stories and play African folk music. Play a Kwanza matching game (match names of 7 principles to the correct definition). The 7 Principles are: Dec 26: Umoja (Unity) – To strive for and maintain unity in the family, community, and nation.
Dec 27: Kujichaguila (Self Determination) – To create, name and define our lives for ourselves.
Dec 28: Ujima (Collective Work and Responsibility) – To build and maintain our community while working with others to solve problems.
Dec 29: Ujamaa (Cooperative Economics) – To build and maintain our own stores, shops and other businesses to profit from them together.
Dec 30: Nia (Purpose) – To make our collective vocation the building and developing of our community.
Dec 31: Kuumba (Creativity) – To leave our community for beneficial and more beautiful than we inherited it.
Jan 1: Imani (Faith) – To believe in our people, teachers, and leaders and the virtue and victory of our struggle.
Arts & Crafts
Have guests make 7 large paper candles and write the seven principles of Kwanza on these candles. Set out woodend beads and cord for jewelry making. Color Kwanza coloring pages.
Party Refreshments
Serve rice, beans and fruit kabobs.
Party Favors
Send guests home with a book and book mark. Or fill favor bags with sidewalk chalk, jump ropes, and marbles.