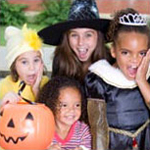 Halloween Party
Celebrate Halloween with a fun and spooky party. Keep the scare factor low for younger children, but gear it up for older children. Vist our sister site Halloween Kid Fun for more Halloween ideas.
Party Invitations
Make invitations in the shape of jack-o-lantern, ghost, spider or tombstone. If delivering the invitation, instead of mailing, attach a plastic spider and fake cob webs. Ask guests to wear costumes.
Party Decorations
Decorate with balloon ghosts (balloons covered with white cloth, netting or garbage bags), cardboard or plastic skeletons and spider webs. Play a music CD of scary sounds or Halloween songs.
Games & Activities
Play pin the wart on the witch, hot pumpkin (like hot potato, but with small pumpkin), hoola hoop toss (toss hoops over large pumpkins or jack-o'-lanterns) and bean bag ghost (paint ghost shape on large box and cut out holes for mouth and eyes). Have a gross out box – put pudding in a plastic bag (a heart), potato chips (scabs), dried apricots (ears), peeled grapes (eye balls), tapioca (frog eggs) inside a box for kids to feel. Rell or read scary stories (pass around props to trigger ideas). Do neighborhood trick-or-treating or a costume parade around block (set-up a few neighbors with candy or favor items to distribute if it's not Halloween Night). Have a Halloween pinata.
Arts & Crafts
Decorate trick-or-treat bags and small pumpkins with markers, stickers and glitter glue. Make modeling clay monsters and goblins and pipecleaner spiders. Print out free Halloween coloring pages and other fun printables. More Halloween craft ideas.
Party Refreshments
Serve spaghetti, salad (serve dressing in carved out pumpkin), cream cheese stuffed olives (eyeballs), bread sticks. Decorate cupcakes with plastic spiders or gummy candy worms. Make spider web brownie (draw spiral on pan of brownies or individual brownies with white icing and pull tooth pick through design to create web effect, garnish with gummy candy spider or plastic spider). Or make a Haunted House cake, Worm cupcakes, Jack-o-Lantern Cake or Spider cupcakes. Serve red fruit punch in a caldron.
Party Favors
Fill favor bags with stickers, temporary tattoos, glow sticks or mini flashlights and vampire teeth.