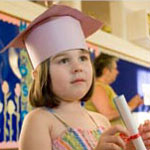 Graduation Party
Whether it's the end of kindergarten or high school, a Graduation Party is a fun way to commemorate the occasion with your child's friends and classmates.
Party Invitations
Order personalized graduation announcements or make invitations like scrolls, diplomas or a report card. Include photo or drawing of school your child is graduating from. Incorporate the school colors and mascot.
Party Decorations
Decorate with graduation party supplies, confetti & streamers, paper graduation caps, and balloons in school colors.
Games & Activities
Have a guess how many pennies in large jar – winner gets pennies for his "college fund". Have an adult dress up and tell fortunes. Play "Life" board game or Twister. Play 20 questions or word games – most words and longest words out of the letters in Congratulations Graduate.
Arts & Crafts
Make book marks with poster board and stickers. Decorate a photo frame. Make a dreams collage (children cut photos from magazines to represent their dreams for the future).
Party Refreshments
Serve pizza, spaghetti or lasagna, a veggie tray with dip, and fruit kabobs. Have guests make their own ice cream sundaes. Decorate cupcakes with edible "seal" (use chocolate gold coins for seal and fruit leather strips for ribbon) or make graduation cap treats.
Party Favors
Fill favor bags with key chains, book marks, activity books (mazes, word search) and pencils, markers & erasers.