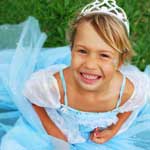 Frozen Party
Given the amazing popularity of the movie Frozen it's not surprising that children everywhere want to have a Frozen birthday party. Fortunately, it's a really fun and easy party theme. Create a frozen wonderland at your home or have your party at a nearby ice skating rink.
Party Invitations
Make invitations with snowflakes, snowmen or other wintry icons. Use cotton and glitter to embellish your designs.
Party Decorations
Decorate with white and blue helium balloons and streamers and silver mylar (foil) balloons. Cover a doorway entrance with a clear cellophane curtain to create an "icicles" effect. Dig out the white twinkle lights from your Christmas box to add some sparkle.
Games & Activities
Fill a large candy jar with blue and white peppermint candy and have guests guess how many candies are in the jar. The guest with the closest guess wins the candy-filled jar. Play a trivia quiz, wordsearch, crossword or other game based on the movie. Make a pin-the-tail-on-the-reindeer or pin-the-nose-on-the-snowman game. Of course, no Frozen party would be complete without a sing-a-long so crank up the soundtrack and lead the chorus!
Arts & Crafts
Create stained glass snowflakes by cutting snowflakes from white paper and then gluing tissue paper to one side. Make snow globes out of glass jars filled with glitter, snowflake confetti and tinted blue water. Decorate snow wands with rhinestones and ribbons.
Fun Food
Serve frozen favorites and warming treats, such as popsicles, ice cream, hot chocolate and cheese or chocolate fondue. Serve baby carrots with ranch dressing. Let guests make snowman face crackers from cream cheese, pretzels and raisins or dried cranberries. Make snowball cupcakes in silver paper liners with white icing and sugar sprinkles or decorate a cake with spires of blue, white and purple rock candy.
Party Favors
Give guests a favor bag filled with blowing bubbles, stickers and mint candies.