Easy Parties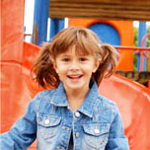 Your child's party is worth the effort it takes to make it special, but some years you just may not have much time or energy to devote to it. Maybe there's a new baby in the house, a demanding boss, or you're moving in two weeks. Give yourself a break and use our 10 Easy Party Tips to have a great party for your child without stressing out.
If you find you're short on both time and money, check out our Inexpensive Party Tips.
#1 Pick an EASY Party Theme
Some party themes are just naturally more complicated, because they require lots of decorations or special games and activities to convey the theme. Other party themes come together in a snap. Check out our Party Themes ideas and think about which ones would be easiest for you to pull off.
#2 Choose a One-Stop Party Place
Have the party at a place that provides the entertainment, the decorations, the food, and the party favors. This might include a kid gym, a children's museum, or a game arcade. If you can't find an all-inclusive place that meets your needs, at least have the party at a place where the entertainment is built-in, such as movie theaters, bowling alleys, and ice-skating rinks. Of if the weather is likely to cooperate, consider having the party at a park with a playground and an open field. Bring some sports equipment, kites, frisbees, or other outdoor games.
#3 Buy a Party Kit
Birthday in a Box sells all-inclusive party kits for many themes that include party ware, decorations, and favor bags.
#4 Have the Party on Sunday Afternoon
If you work during the week, this will give you Saturday to shop and prepare and Sunday morning to setup. An added bonus is that Sunday afternoon parties usually don't conflict with sports or church activities.
#5 Keep it Short
2 hours is fine. This isn't the time to have a slumber party where you have to provide two meals (plus snacks), an evenings worth of entertainment, and keep the bathroom clean for 12 hours.
#6 Keep it Small
This isn't the time to invite the entire class, all your child's team mates, and half the neighborhood. Limit the guest list to 6 or fewer of your child's closest friends, unless it really doesn't matter because you're having the party at a place that can just as easily accommodate 25 as 5 (such as a skating rink).
#7 Schedule the Party Between Meals
Choose a time of day when you aren't expected to provide a meal, such as 10 am-Noon, or 2-4 pm. You can serve store bought snacks, drinks, cake and ice-cream instead of preparing a meal.
#8 Order Take-Out or Delivery
If you really need to provide meals, such as for a Movie Night, order take-out or delivery or rely on convenience foods. Chinese food or pizza make a fine party meal and boxed mac & cheese is most kids' favorite food!
#9 Get Help!
If you're lucky, Grandma lives nearby and would love to help throw a party for your child. If you're not so lucky, ask friends and family to help with specific tasks. Maybe your cousin can bake a great cake, your best friend can pickup balloons in her mini-van, older siblings can assemble favor bags, and your spouse can help clean the house.
#10 Postpone If You Have To
If it's your child's birthday and you just can't pull off a big party, have a small family celebration (cake and presents after dinner) on her birthday and have her start planning a special party for later that month or even a couple months away. You might even be able to sell this as a special treat… maybe your January birthday child would like to have a Beach Party on his 1/2 birthday in June!