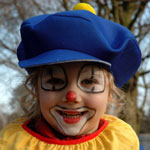 Circus Party
Go to a real circus performance or create a mini-circus in your yard or nearby park.
Party Invitations
Make invitations with a clown face or a big top with flaps that open to reveal invitation. Invite guests to "The Greatest Show on Earth" and have guests bring bikes, wagons, scooters, or big wheel cars for a circus parade.
Party Decorations
Decorate with streamers, balloons, stuffed animals, and funny paper clown faces.
Games & Activities
Have guests guess how many jelly beans are in a jar. Have a ball, coin or ring toss. Play balloon stomp, pin the nose on the clown or pin the trunk on the elephant, relay races, and jump rope games. Have a circus parade. Teach juggling and do face painting. If your budget permits, hire a clown.
Arts & Crafts
Have guests draw or paint a circus mural and make paper clown hats. Make clowns and animal figures out of modeling clay or pipe cleaners.
Party Refreshments
Serve hot dogs, peanuts, popcorn and cotton candy floats (sherbet with lemon lime soda). Decorate cupcakes with sugar sprinkles and an animal cracker or make clown cupcakes.
Party Favors
Buy circus favor boxes or fill favor bags with animal crackers, whistles, punching balloons or paddle balls and blowing bubbles. Or give guests funny glasses and a clown nose or a jump rope or yo-yo.