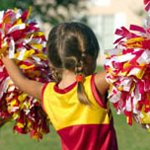 Cheer Party
A Cheer Party is a fun birthday theme or a great way to celebrate the end of a successful cheerleading season. Have the party at a park, local community center, or a gym or cheer studio.
Party Invitations
Make invitations in the shape of a megaphone or with the image of cheerleader shouting your child's name.
Party Decorations
Decorate with cheerleading pom poms, cardboard megaphone cutouts, and brightly colored balloons and streamers. Play dance/cheer music.
Games & Activities
Instruct and perform cheer routines or watch a movie with a cheer theme. Play pin the pom poms on the cheerleader.
Creative Arts & Crafts
Decorate photo frames with beads and ribbon. Set-up beads and cords for jewelry making. Apply temporary tattoos.
Party Refreshments
Serve pizza, veggies with dip, fruit kabobs, popcorn and rootbeer floats.
Party Favors
Fill favor bags with stickers, temporary tattoos and blowing bubbles or gives guests a music CD, disposable camera or mini photo album.