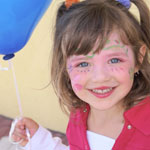 Carnival Party
Have a carnival in your yard, driveway or nearby park. Set-up booths for games, entertainment and food. Give guests tickets for activities and award prizes for games.
Carnival Party Invitations
Buy personalized birthday invitations or design invitations like a large admissions ticket.
Carnival Party Decorations
Decorate with party banners and brightly colored helium balloons.
Carnival Games & Activities
Set-up a variety of carnival-style games like a bean bag toss, ball toss, ring toss, coin toss and rubber darts. Have a balloon stomp, play bingo and pin the nose on the clown. Fill a jar with m&ms, jelly beans, or peppermints, have guests guess how many candies are in the jar, and award the candy to the winner. Play fun music. If your budget allows, hire a clown or magician or rent a bounce gym for the day.
Carnival Arts & Crafts
Set-up a craft station for coloring and painting. Supply chalk for sidewalk or driveway murals. Set-out cords and beads for jewelry making. Have modeling clay or play doh, pipe cleaners and wiggle eyes for sculpting fun.
Carnival Party Refreshments
Serve corn dogs, corn on the cob, string cheese, soft pretzels, popcorn, watermelon and lemonade. Have ice-cream cake or cupcakes for dessert.
Carnival Party Favors
Give guests items they can play with at the party and then take home as party favors, such as paddle balls, punching balloons, silly putty, yo-yo and card games or fill a favor bag with a whistle or kazoo, spinning top, lolipop, and stickers.