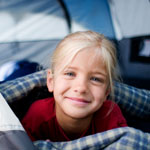 Camp Out Party
A Camp Out Party provides plenty of time and space for fun. A back yard campout is a fun adventure for young children. Pack-up older children and head for a nearby park that allows camping. If you're going to a large park, call ahead to arrange a visit to the ranger station or a special tour for your guests.
Party Invitations
Design invitations in the shape of a tent with "flaps" that open to reveal party details. Decorate invitation with image or of a bear, dear, raccoon, or other wildlife inviting guests to join them in the outdoors. Provide a list of items to bring, such as sleeping bags, tent, tooth brush, towel and bathing suit. Invite additional parents as needed to provide adequate supervision.
Party Decorations
Decorate with balloons for the daytime and paper bag luminaries for night.
Games & Activities
Plan a scavenger hunt or nature walk. Once it get's dark play shadow puppets, tell ghost stories and identify star constellations.
Arts & Crafts
Provide supplies for guests to make animal masks, nature collage (rocks, leaves, pine needles) or modeling clay animals.
Party Refreshments
Serve sandwiches, chips, fruit and juice for lunch and beans and franks, mac & cheese, corn, and bake potatoes for dinner. Wake-up campers with pancakes, cereal, yogurt and juice for breakfast. Provide trail mix (nuts, m&ms, raisins) or granola bars for snacks. Make worm cupcakes for a fun dessert. Make s'mores (graham crackers, chocolate and roasted marshmallows) and hot chocolate for a campfire treat.
Party Favors
Give guests items they can use during the campout and then take home as party favors, such as flash lights and water bottles or fill a favor bag with blowing bubbles and animal crackers.