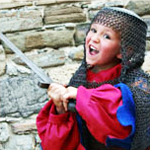 Brave Knight Party
Celebrate like royalty with a Brave Knight Party. The party can have a general old-world, magical theme or can be based on the life and times or your child's favorite fairy tale Prince or Knight.
Party Invitations
Make invitations in the shape of a dragon or castle. If hand delivering invitations, roll the paper like a scroll and tie with gold ribbon.
Party Decorations
Decorate with balloons, streamers, and confetti in the royal colors like blue, purple & gold and drawings or posters of dragons or unicorns.
Games & Activities
Provide capes, swords and shields for dress-up play. Play pin the horn on the unicorn or have a coin toss using gold plastic coins. Have a quest (scavenger hunt) or treasure hunt. Read a favorite knight story or show a movie, such as the Sword & the Stone. Have guests "slay" a dragon pinata.
Arts & Crafts
Have guests decorate a castle (assemble large cardboad boxes into a castle shape and let guests decorate with paint, markers, fabric strips, ribbon, and garland). Make modeling clay or pipecleaner dragons. Decorate cardboard shields with a personal coat of arms (royal logo). Print out knight coloring pages.
Party Food
Serve chicken nuggets, cheese and crackers, baby carrots with dip, and fruit kabobs. Make a dragon cake or cupcakes with multi-colored sugar or star shaped sprinkles. Serve sparkling apple cider.
Party Favors
Fill favor bags with blowing bubbles, spinning tops, gold foil chocolate coins, and stickers.