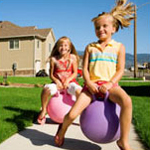 Block Party
Successful Block Parties are cooperative efforts. Not only is it too much work for one family, but the simple act of many families contributing to the event helps build the feeling of community. Block parties are appropriate for all ages and part of the fun is providing the opportunity for children of different ages interact. The key is to have a wide range of activities…some activities that are fun for young children, some that are fun for older children, and some that bridge the gap and can be enjoyed by all children and even adults. Front yards, driveways, sidewalks and garages are logical locations. Some cities allow residents to obtain permits to block auto traffic on the street and actually use the street for the party location (kids love being able to play in the street for a day!). These permits are usually low cost ($25), but must be applied for well in advance. If your neighborhood is close to a park or school with public space, the party could be held there. Since this is likely to be an outdoor party, think about the back-up plan in case of rain. Is the party postponed or moved inside garages or covered porches?
Block Party Invitations
Make invitations in the shape of a street sign and with your street's name or with a reproduction of a map of your neighborhood. Ask for RSVPs at least one week ahead and request the number of guests, ages and genders of children, type of food they plan to bring, games or craft supplies they can bring, entertainment skills (see below), and misc. supplies they can bring (tables, chairs, bbq grill, ice chest). This allows you to determine how many people to plan for and determine the supply needs that are taken care of and those that are still needed.
Block Party Decorations
Decorate with colorful table cloths and partyware (plates, cups, napkins, utensils). Hang a poster or banner to celebrate the occasion, such as "Welcome to the Elm Street Block Party". Tie helium or regular balloons to trees, fences, and mailboxes.
Block Party Games & Activities
Play street hockey, have a bike, wagon and skateboard parade, orset-up an obstacle course
Block Party Games or relay race. Roll out a ping pong table. Set out checkerboards, blowing bubbles, frisbees, stomp rockets, marbles, jacks and jump ropes for free play. Have a water balloon toss. Fill a jar with m&ms or peppermints, have guests guess how many and award the jar to the winner. Have neighborhood musicians play or set-up a boom box. Offer facepainting or press-on tattoos.
Block Party Arts & Crafts
Have guests decorate bikes and wagons with streamers and balloons for parade. Set out chalk for sidewalk murals and modeling clay or play doh for sculpting fun.
Block Party Refreshments
Have guests bring an assortment of potluck foods like fried chicken, macaroni & cheese, baked beans, and potato salad. Set-up a grill for hamburgers and hot dogs. Make a large batch of lemonade and set out supplies for make-your-own ice cream sundaes.
Block Party Favors
Give guests items they can play with at the party and then take home as party favors, such as small rubber balls, paddle balls, punching balloons, blowing bubbles, ball & jack sets, sidewalk chalk and mini frisbees.