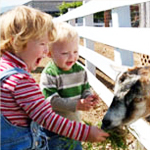 Barnyard Party
A Barnyard party is a great theme for a little animal lover. Have a Barnyard Party at your home, local park, or nearby farm.
Party Invitations
Make invitations in the shape of old red barn or with a drawing or photo of farm animals.
Party Decorations
Decorate with plastic toy farm animals and cowboy hats.
Games and Activities
Play pin the tail on the cow, "feed the animals" bean bag toss, balloon stomp and relay races. Arrange for a petting zoo or pony rides.
Arts & Crafts
Paint an old red barn on paper or cardboard boxes. Make farm animals out of clay.
Party Refreshments
Serve sloppy joes or beanie weanies, cheese cubes, apple slices and pretzels. Make root beer floats and a cake or cupcake decorated with plastic toy farm animals. Or this super cute farmyard cake and cupcakes.
Party Favors
Send guests home with a barnyard favor box, straw or plastic cowboy hats, bandanas, punching balloons, stickers or toy farm animals.